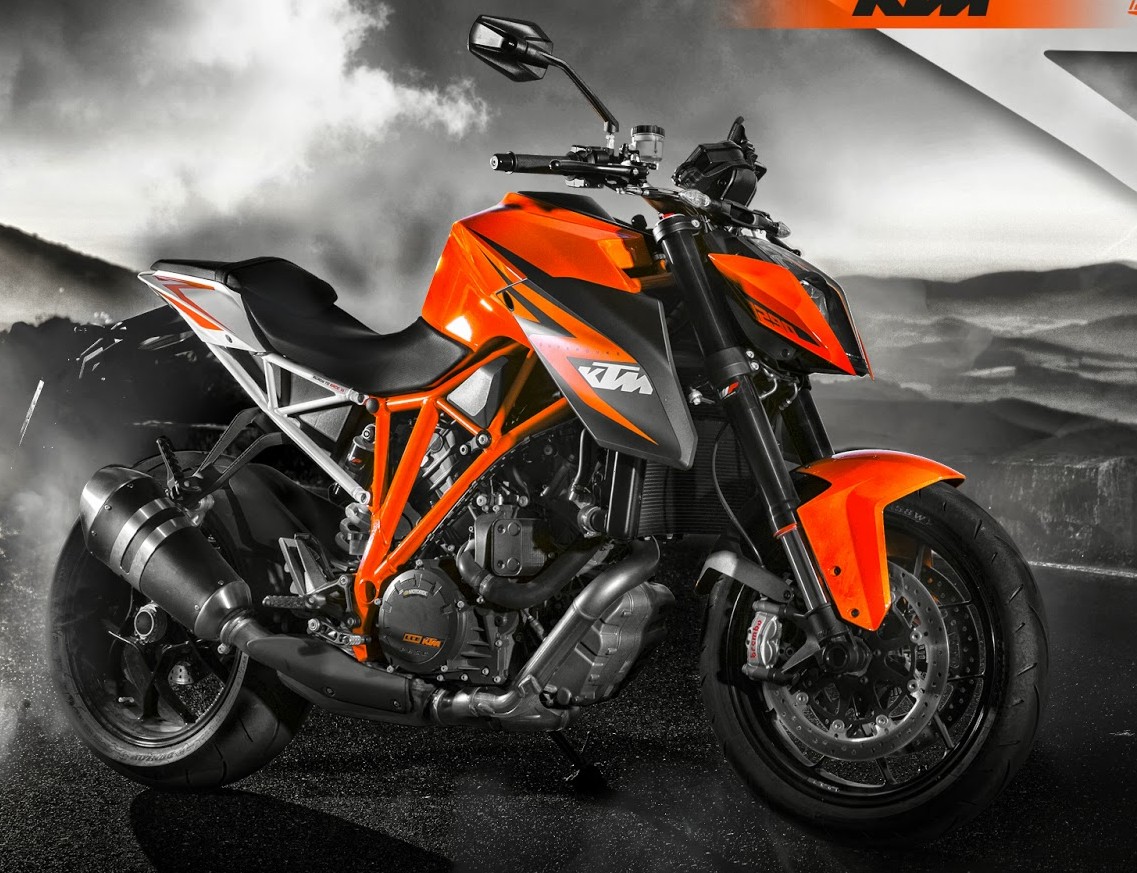 Make Model

KTM 1290 Super Duke "The Beast"

Year

2014

Engine

Liquid cooling, four stroke, 75°V-twin cylinder, DOHC, 4 valves per cylinder

Capacity

1301

Bore x Stroke

108 x 71 mm

Engine Lubrication
Pressure lubrication with 3 Eaton pumps

Compression Ratio

Engine Management / Ignition

Keihin EMS with DBW, double ignition

Ignition / Starting

- / Electric starter/12V 11.2Ah

Max Power

132 kW 180 hp @ 8870 rpmn

Max Torque

Transmission / Drive

6 Speed / chain X-Ring 5/8 x 5/16″

Clutch
PASC slipper clutch, hydraulically operated
Handlebars

Aluminium, konifiziert ? 28/22 mm

Frame

Chromium-Molybdenum-Steel trellis frame, powder coated

Front Suspension

WP-USD ? 48 mm

Rear Suspension

WP-Monoshock

Front Brakes

2 x Brembo 320mm 4 piston calipers

Rear Brakes

Single

Brembo

2 piston calipers
Brake System

Bosch 9ME Combined-ABS

Steering Head Angle

65,1°

Front Tyre

Rear Tyre

Wheelbase

1482 mm

Ground Clearance

140 mm

Seat Height
835 mm

Dry-Weight

189 kg

Fuel Capacity

18 Litres / 4.75 gal

Unleaded premium fuel (95 RON)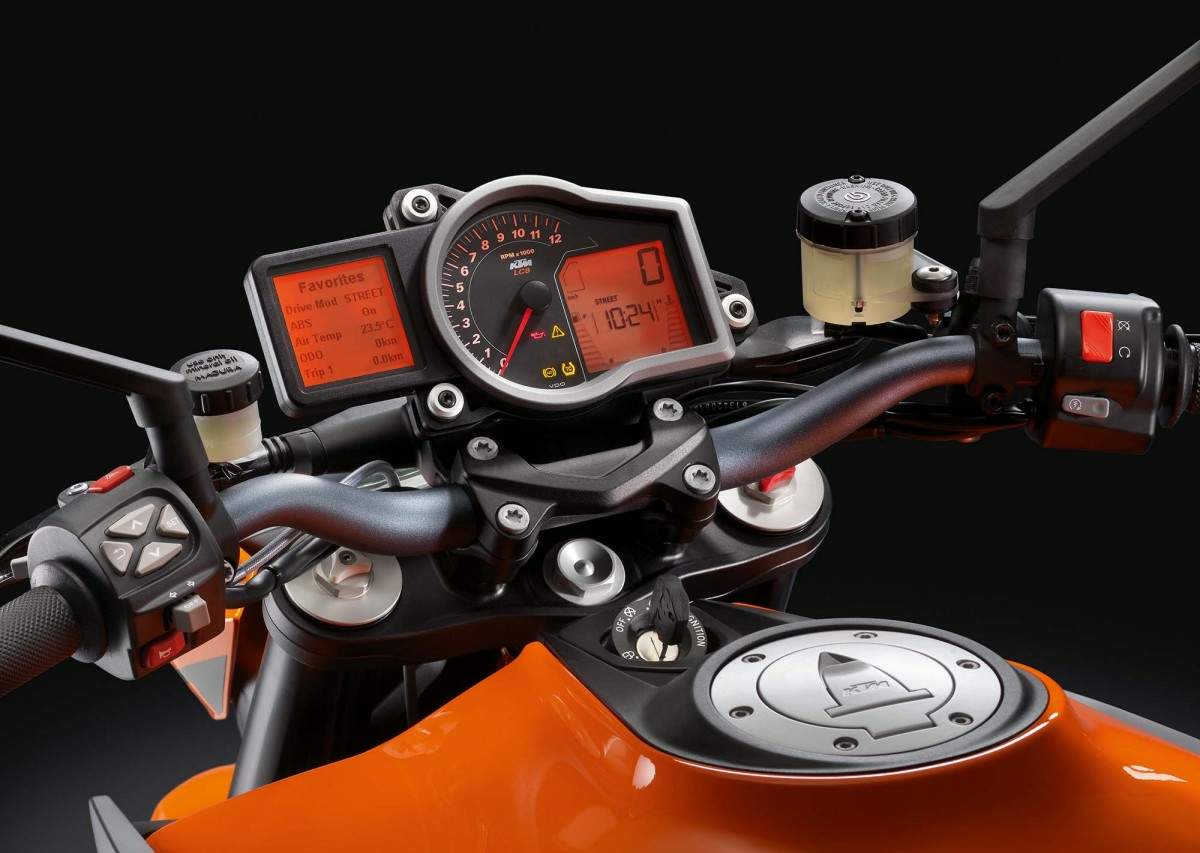 The KTM 1290 provides only a ballpark estimate of the actual engine displacement. The powerplant is another iteration of KTM's 75-degree V-Twin engine, this time enlarged to a 1301cc displacement. Whereas the engines on the RC8 R and the 1190 Adventure have a bore of 105mm and a stroke of 69 mm, the Super Duke R is bored out to 108 mm while the stroke is a bit longer at 71 mm.
The result, KTM claims, is an output of 177 hp at 8870 rpm. Torque, meanwhile, is claimed to peak at 106 ft-lb., with an ample 74 ft-lb. available at just 2500 rpm. According to KTM, the 1290 Super Duke R can go from 0 to 200 kph (124 mph) in just 7.2 seconds. The fuel tank holds 4.75 gallons while KTM claims a dry weight of 417 pounds.
Helping control the power delivery is a ride-by-wire throttle system and a traction control system. The R-b-W system offers selectable ride modes that control power output as well as traction control and combined-ABS. Rain mode offers smooth but limited power with early traction control intervention. Street mode provides a sportier ride for everyday use. Sport mode offers full power and less traction control intervention. An all-new Supermoto mode which only engages ABS for the front wheel, allowing the rear to slide. Traction control and ABS can also be deactivated.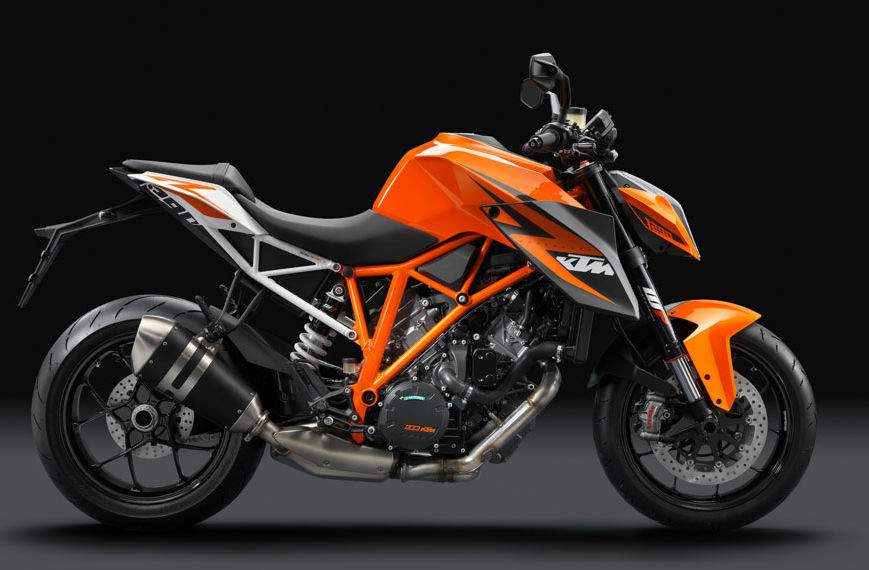 Review

For 2014, KTM is launching the third model of the Super Duke line, which they have been selling since 2005 (note: KTM mentions it's the fourth edition because of the small upgrade in 2011).

The new KTM 1290 Super Duke R has a brand new 1,301 cc v-twin engine, that delivers a huge amount of horsepower (180bhp) and a mountain of torque (106 lbs?ft). The 1290 Super Duke R only weighs 417 lbs dry.

Engine

The previous iterations of the LC8-lump were always hampered with a difficult throttle response. According to KTM, this part-throttle behaviour has been reworked extensively on the KTM 1290 Super Duke R, and we have to agree it does feel fine now, apart from a minimal on-off reaction when you first open the throttle mid-corner.

Overall though, we like the driveability of the ride-by-wire system. The big v-twin sounds amazing and runs so smoothly that you can use a broad RPM range in any gear, although you do need to stay above 4,000 rpm to avoid bucking.

Above that the engine truly is a beast: turn the traction control off and it's simply impossible to keep the front wheel down in the first 3 gears. In fourth, fifth, or sixth, a tiny crest in the road will result into a power-wheelie. KTM definitely didn't lie when they christened this bike as 'The Beast': the 1290 Super Duke R is faster, stronger, wilder than you can imagine.

It is however geared too long. At freeway speeds in 6th, the engine is lugging along as it sits below 4,000 rpm, and doesn't feel particularly happy about it. You really don't need more than 4 gears on public roads unless of course you are addicted to prison speeds. Gearing The Beast shorter however doesn't seem like a valid solution because of the enormous power that's available.
Electronics

This is where KTM's state-of-the-art electronics package, a modern Bosch ABS and traction control system, comes into play. It should be noted that these systems are not the same as the ones on the KTM 1190 Adventure, which means that KTM will not be offering the recently flaunted Bosch MSC stability system on the big Duke.

The ABS system is different from most other sport bikes too, in that it works fine on the street, but on track it seems that you can get the most out of the brakes by disabling the ABS altogether. Even in its sports setting, the ABS system comes in too quickly on track. It's probably more a gimmick than anything else, but experienced riders can also choose a 'supermoto' setting for the ABS, which allows you to slide the rear tire.

The Bosch Traction Control on the other hand is fantastic. The rough asphalt of the Spanish mountain passes didn't phase the 180 hp / 106 lbs?ft bike at all as the system worked overtime on the broken surface. At first this felt a bit awkward, but soon you gain full-confidence in the electronics.

The system worked just as brilliantly on the Ascari track: we could see the TC light coming on in the 90° left-hander, but we couldn't feel the system working at all, and the Super Duke R stayed perfectly stable.

The only downside of this electronics package is the irritating way of turning it off and on. You have to push a button for 5 seconds ,while being stationary, which means that you can't make any changes on-the-fly and react quickly to changing conditions.

KTM says that they have done this for safety reasons, but this doesn't seem to add up with their 'ready to race' image, and the simple fact of introducing a 180 horsepower bike into the market.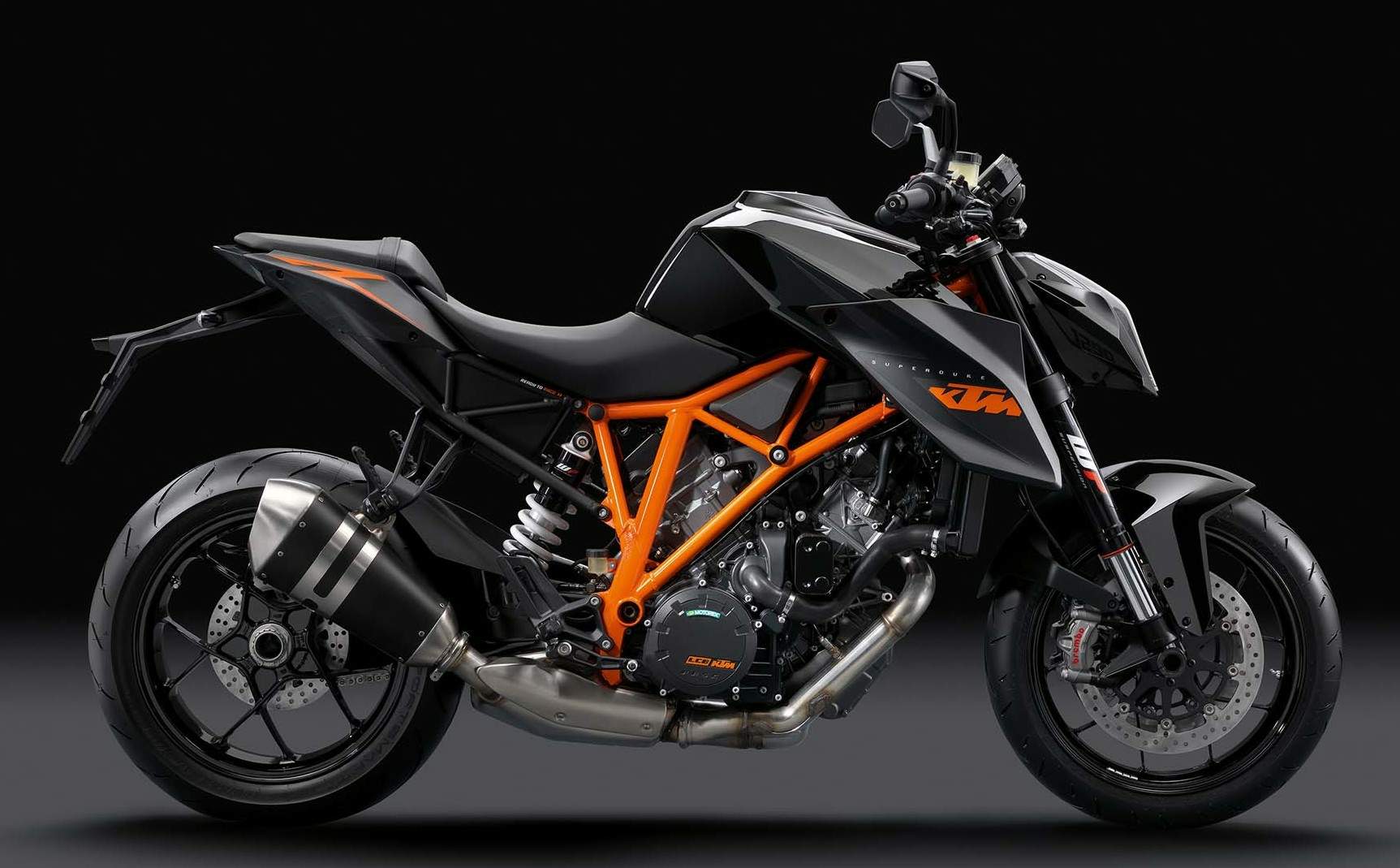 Chassis

The Brembo M50 monoblocs already proved themselves on other bikes, like the Ducati 1199 Panigale, and they are no different on the 1290 Super Duke. The braking power is immense, but you get so much feedback and feel from the system that you never lose confidence in the front. You can execute emergency stops on loose surfaces without fear of lowsiding.

The comfortable seating position really adds to this feeling of total control with a great stock seat and a gentle knee-angle to the pegs . Shifting gears is very easy, although we did get a couple of false neutrals on the rough twisting roads, most probably because of the hectic riding conditions and dodgy roads during the test.

The all-new trellis frame is suspended – as always with KTM – by high quality WP elements. The front forks each have separate damping controls, meaning that one leg controls the rebound, while the other one takes care of the compression damping.

All in all, there's more flex in this chassis than you would encounter on a superbike — this is not a hot rod RC8 without fairings. When riding fast, the bike moves around quite a bit and in these extreme conditions it feels nice to have a steering damper as a fail safe.

The flexibility does take some getting used to, but you definitely gain confidence after a while. On public roads there's plenty of ground clearance, but on track our toesliders got a good workout. The race-version we tried had much more ground clearance for this exact reason.

The performance of the front end was somewhat hit and miss however. The Dunlop Sportsmart2 tires gave full confidence at one point while lacking grip a little while later. According to KTM no changes were done to the bikes, so we don't really know why the front-end feedback and grip was so changeable.

The rear suspension is of a beautiful single-sided construction, which always feels stable, tight, confident, and perfectly in control thanks to the traction control system.
Details

The KTM 1290 Super Duke R is a quality product: the fit and finish looks wonderful except for the contrasting cheap looking exhaust system. Of course KTM likes you to solve this issue by buying a full Akrapovic system…very expensive but then again, it promises an extra 12 horses.

The headlight with striking LED daytime running lights is mounted very low on the forks and takes some getting used to visually. It turns on and off automatically and we still feel that the rider should control this but luckily this setup doesn't flicker as nervously as the Adventure headlight.

Conclusion

Priced at ?17,599 in Europe (not pricing is available in the USA yet), the 2014 KTM 1290 Super Duke R is a hell of a lot of money for a naked bike. For that amount we feel that KTM should have thrown in some carbon bits and a better race-ABS system.

But all-in-all this brand new 1290 Super Duke R doesn't have any real flaws (apart from the MTC and ABS controls). This bike delivers what's been promised: a insane streetfighter with an obscene amount of power, controlled to be enjoyed to the fullest.

You can ask yourself if all this power is really necessary, but in practice, the huge and addictive wave of torque gives you riding pleasure few bikes can match: powering this beast out of corners feels fantastic, over and over again. It has more power than you'll ever need or want.

The commanding seating position and the wild ride nicely finish off the concept of this big ballsy naked. Just try to keep your licence, if at all possible.
Source Iwan van der Valk from Testmotor.nl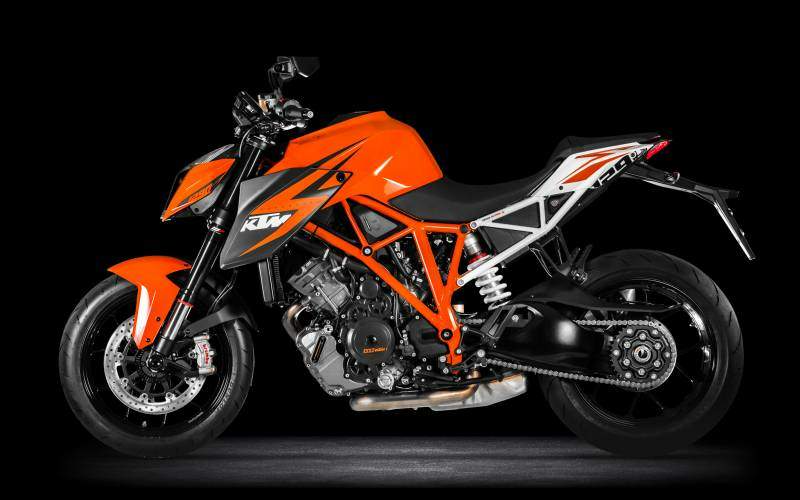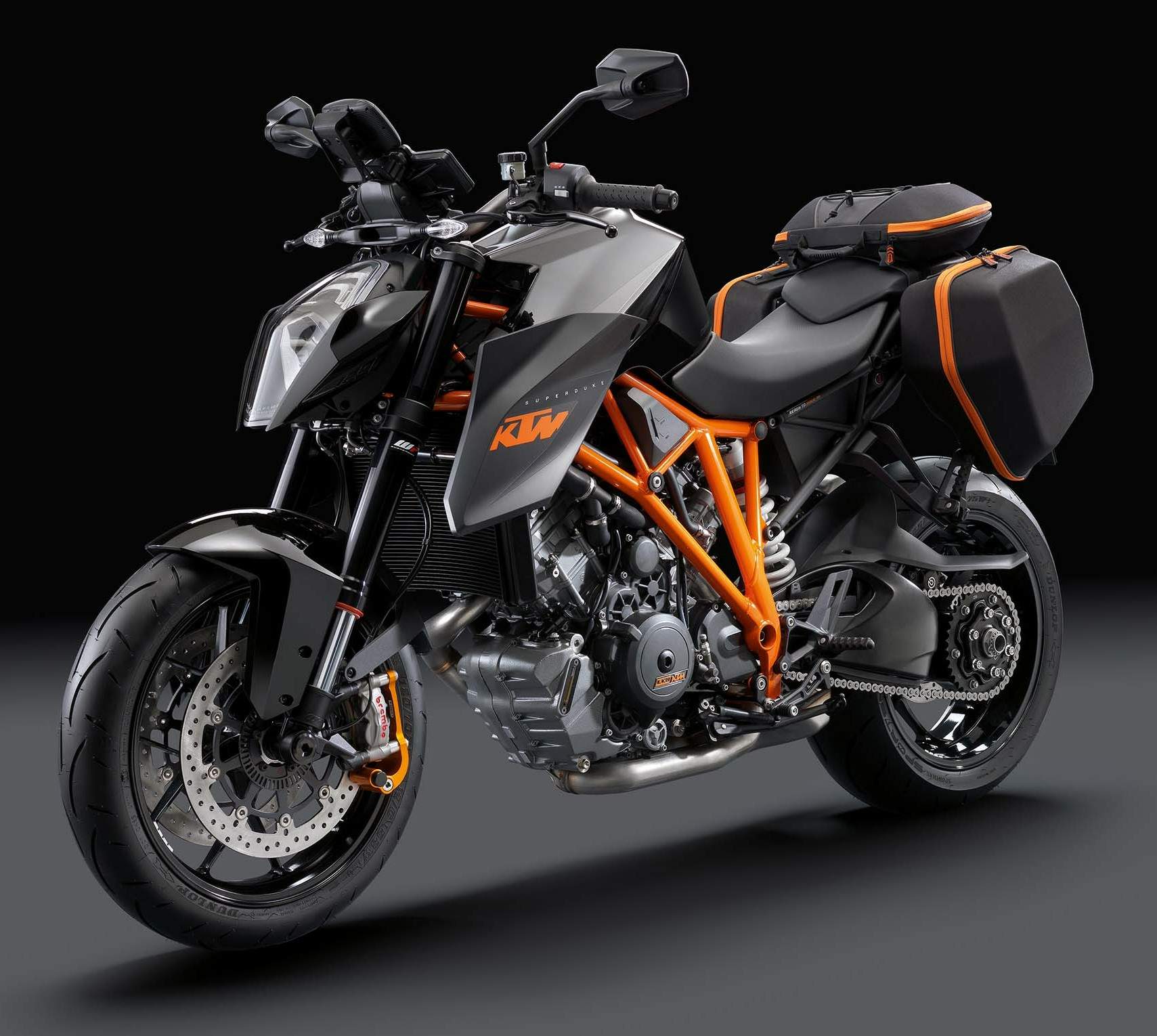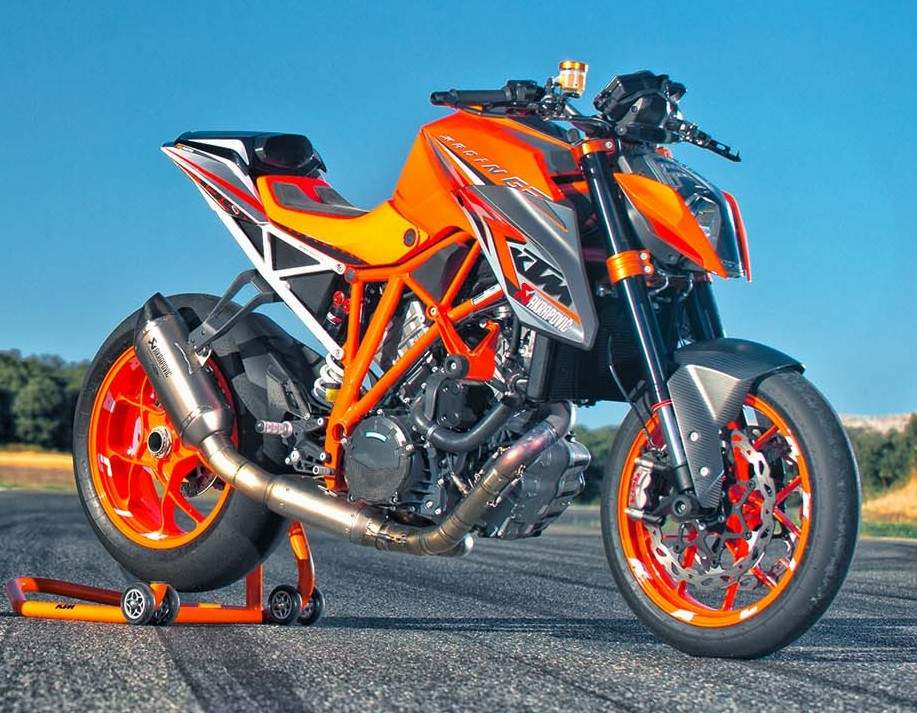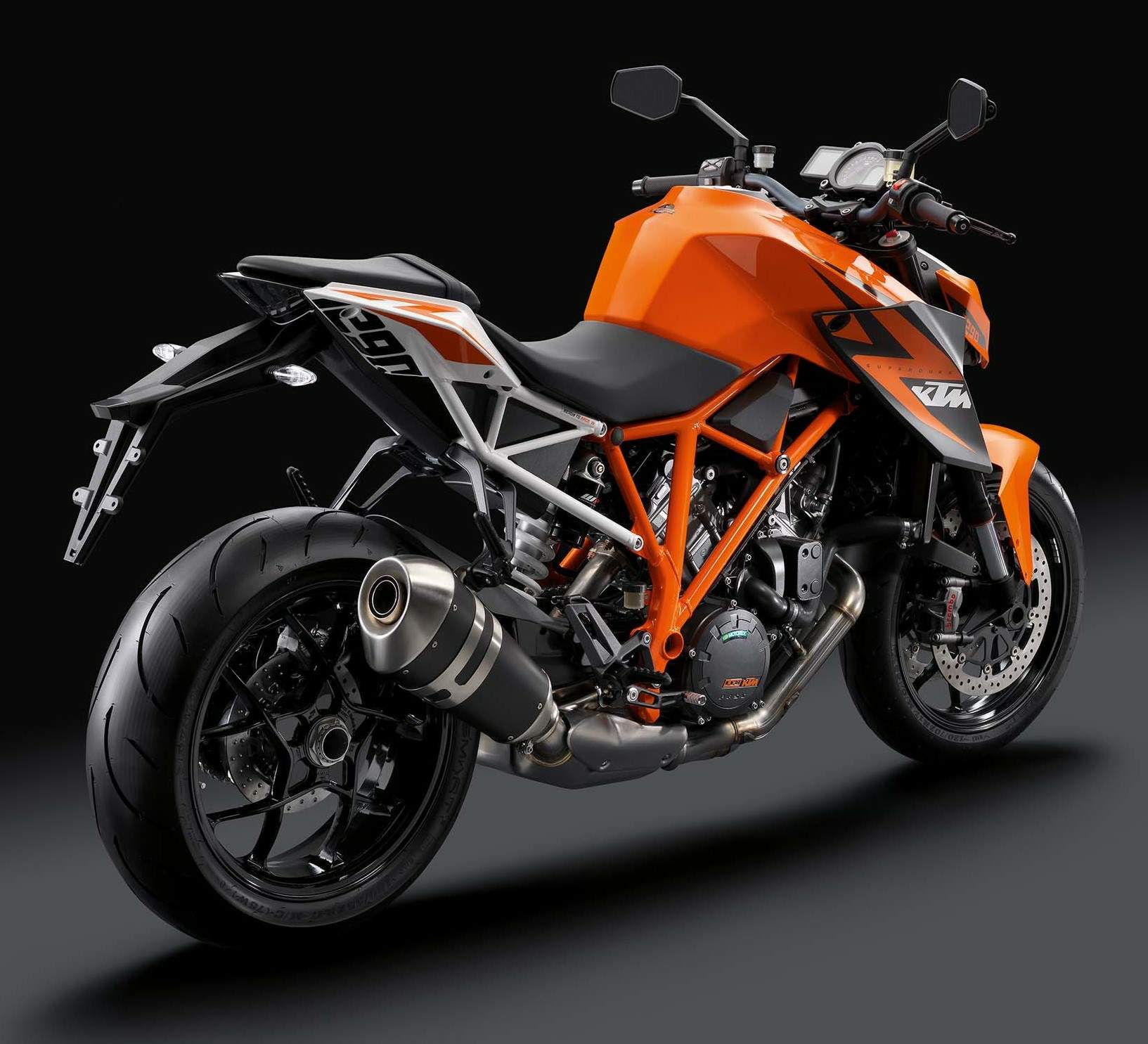 google 提供的翻译,很不专业,大家先凑合着与原文对比一睹为快!
KTM 1290超级公爵"野兽"

KTM 1290只提供一个大概的估计,实际的发动机排量。发动机是KTM的75度V型双引擎,这一次扩大到1301cc排量的另一次迭代。 RC8 R和1190冒险,而发动机上有一个孔, 105毫米和69毫米中风,超级公爵为R无聊的行程有点长71毫米至108毫米,而。

KTM声称,其结果,是一个输出为177马力,在8870转。扭矩,同时声称峰值为106磅 - 英尺,与充足的74磅 - 英尺。可在仅为2500转。据KTM超级杜克大学, 1290 R可以从0到200公里(124英里) ,在仅为7.2秒。油箱持有4.75加仑,而KTM宣称的干重417磅。

帮助控制电力输送是乘坐线控油门系统和牵引力控制系统。 RBW系统提供了可选择的行驶模式控制输出功率,以及牵引力控制系统和联合ABS 。雨早期牵引力控制系统的干预模式提供了平稳,但有限的电力。街模式提供了一个日常使用的驾驶动感。运动模式提供全功率和牵引力控制系统的干预较少。一个全新的SUPERMOTO模式只从事ABS前轮,让后方滑动。牵引力控制系统和ABS也可以停用。


回顾
2014年, KTM推出的第三个模型的超级杜克线,他们已经销售自2005年以来(附注: KTM提到它是因为小的升级在2011年第四版) 。

新的KTM 1290超级公爵R有一个全新的1,301毫升的V型双缸发动机,提供了一个巨大的马力( 180bhp )和山的扭矩( 106磅?英尺) 。 1290超级公爵R只干重达417磅。

发动机

LC8坨以前的迭代总是阻碍着一个困难的油门响应。据KTM ,这部分油门行为已返工的KTM 1290超级杜克?的广泛,我们不得不同意它现在感觉很好,除了从最小的通断反应,当你第一次打开油门中旬角。

总体来说,我们喜欢搭线系统的操控性。大V型双缸听起来很神奇,这么顺利运行,你可以使用广泛的转速范围内,在任何档位,虽然你需要保持4000转以上,以避免呛咳。

以上的发动机确实是兽关闭关闭牵引力控制系统,它是根本不可能保持在第3齿轮前轮。在第四,第五,第六,一个微小的波峰在路上会导致一个电源前轮。 KTM绝对没有撒谎时,他们就把这种自行车为'野兽' : 1290超级公爵?的是更快,更强,怀尔德比你能想象。

但是面向太长。在高速公路的速度在第6位,发动机拖着沿,因为它位于4000转以下,并且不感到特别高兴。你真的不需要超过4齿轮在公共道路上,当然,除非你是沉迷于监狱的速度。杠杆野兽较短但似乎并不像一个有效的解决方案,因为可用的巨大力量。

电子

KTM的国家的最先进的电子包,一个现代化的博世ABS和牵引力控制系统,这是进场。应当指出,这些系统作为对KTM 1190冒险,表示KTM将不能提供大杜克最近标榜博世MSC稳定系统上的是不一样的。

ABS系统是不同的,其他大多数运动自行车,它正常工作在大街上,但轨道上,它似乎,你可以得到最完全禁用了ABS刹车。即使在运动设置, ABS系统有太快的轨道上。它可能更是一个噱头比什么都重要,但经验丰富的车手也可以选择"滑胎"设置为ABS ,它允许你后轮滑动。

博世牵引力控制,另一方面是太棒了。西班牙山口粗糙的沥青没有淘汰的180马力/ 106磅?英尺自行车作为系统加班加点破面。起初,这感觉有点尴尬,但很快你获得充分的自信在电子。

阿斯卡里赛道上的系统一样出色的工作:我们可以看到在90°左撇子TC光,但我们不能在所有的工作感觉系统,超级公爵为R保持完全稳定。

唯一的缺点本电子封装的方式将其关闭,有强烈的刺激性。你必须按下一个按钮,持续5秒,静止时,这意味着你不能做任何变动对飞,并迅速作出反应,对不断变化的条件。

KTM说,他们这样做为了安全起见,但是这似乎并没有添加他们的"准备比赛的形象进入市场引进了180马力的自行车,一个简单的事实。


机壳

Brembo的M50 monoblocs已经证明了自己在其他自行车上,像杜卡迪1199 Panigale , 1290超级公爵,他们并没有什么不同。制动力量是巨大的,但你得到这么多的反馈意见,并从系统的感觉,你从来没有失去信心,在前面。您可以执行紧急停在松软路面不害怕lowsiding 。

舒适的座椅位置确实增加了总量控制与一个伟大的股票座椅和一个温柔的膝角钉这种感觉。换档是非常容易的,虽然我们没有得到粗糙扭曲的道路,很可能是因为工作忙碌,骑行条件和狡猾的道路,在测试过程中的一对夫妇的假中立。

所有新的格子架暂停 - 总是与KTM - 高品质WP元素。每前叉有单独的阻尼控制,这意味着一只脚控制反弹球,而另一个负责压缩阻尼。

总而言之,这款机箱有更多的柔性比你会遇到一个超级 - 这不是一个热棒RC8无整流罩。当快,骑自行车绕着颇有几分要有转向阻尼器故障安全在这些极端条件感觉不错。

这种灵活性确实需要一些时间来适应,但你绝对一段时间后获得的信心。在公共道路上有足够的离地间隙,但在跟踪我们的toesliders得到一个很好的锻炼。比赛版本中,我们试图有更多的离地间隙这个确切的原因。

性能的前端然而有些碰运气。的邓洛普Sportsmart2轮胎在一个点上,而缺乏抓地力,一小会儿后,给予了充分的信心。据KTM没有变化进行的自行车,所以我们真的不知道为什么前端反馈和抓地力是如此多变。

后悬架是一个美丽的单面建筑,它总是感觉稳定,紧张,自信,完美的牵引力控制系统的控制感谢。

详细信息

KTM 1290超级公爵R是一种高质量的产品:看起来对比便宜的排气系统,除了精彩的配合和完成。当然KTM喜欢你来解决这个问题,通过购买一个完整的Akrapovic系统非常昂贵,但话又说回来,它承诺了额外的12匹马。

以醒目的LED日间行车灯的大灯安装非常低的货叉上,需要一些时间用于直观。它会自动开启和关闭,我们仍然觉得,骑手要控制这一点,但幸运的是,这个设置不闪烁,紧张的冒险大灯。

结论

在欧洲售价为? 17,599 (未定价尚未在美国) , 2014年KTM 1290超级公爵R是一个裸体自行车的地狱了很多钱。对于这一数额,我们觉得应该扔了KTM在一些碳位和一个更好的比赛ABS系统中。

但是,所有这一切全新的1290超级杜克?的不会有任何真正的缺陷(除了的MTC和ABS控制) 。这种自行车提供什么承诺:一个大笔控制电源,将享有最充分的疯狂STREETFIGHTER 。

你可以问问自己,如果这一切的力量真的是必要的,但在实践中,巨大的和令人上瘾的波的扭矩,为您提供了几辆自行车骑乘乐趣,可以匹配:此兽供电弯道感觉太棒了,一遍又一遍。你会比以往任何时候都需要或希望有更多的权力。

居高临下的座椅位置和野生乘坐很好地完成了这个大的胆量赤裸的概念。只要尽量保持您的许可,如果在所有可能的。

来源伊万的van der Valk酒店Testmotor.nl