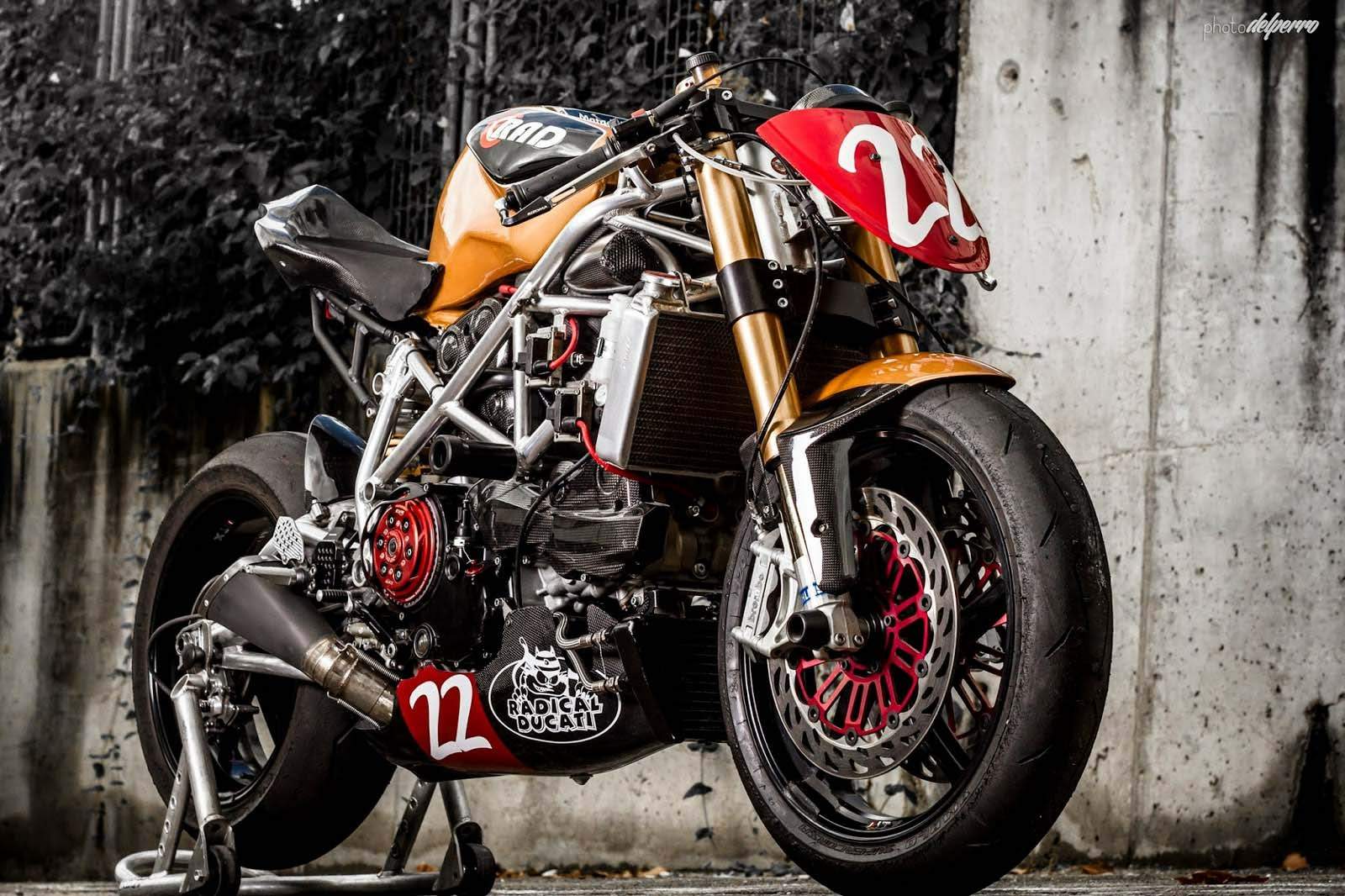 Based around the Ducati 1198 Superbike lump, and featuring all the usual Radical Ducati parts, the Radical Ducati Matador is not only typical of the Spanish firm's gritty design practice, but also makes us nostalgic for the now deceased Ducati Streetfighter 1098 platform, which hit upon the same raw vein during its brief time in Ducati's lineup.
The signature minimalist carbon fiber RAD solo tail section and RAD fuel tank are included in the Matador's design, and we especially like that Pepo and Reyes have massaged some love into the 1198 engine, with a lightened flywheel and ported heads being part of the build — though no word is given on available power.
Still at 304 lbs, this machine should positively kill it at your local track day. ?hlins suspension, Brembo brakes, an EVR slipper clutch, and a RAD designed exhaust pipe complete the go-fast parts.
Source A&R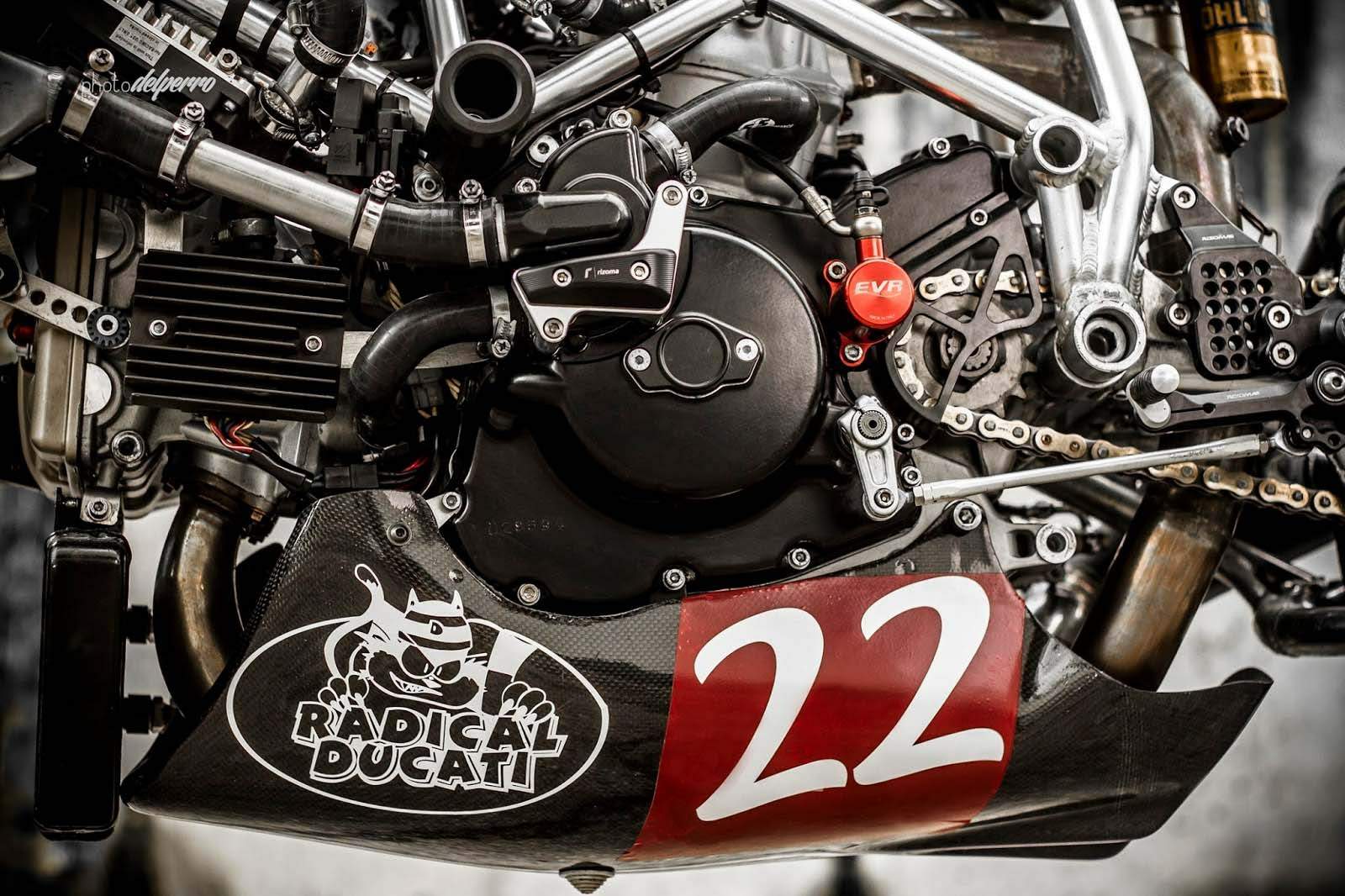 Radical Ducati Matador:
RAD 02 Aluminum frame
RAD 02 Aluminum subframe
RAD 02 Aluminum swingarm
RAD 02 ergal triple clamps yokes
?hlins front fork
Brembo calipers
Discacciati Brake and Clutch radial pump
Discacciati rotors
Domino quick open gas throttle
RAD 02 ergal clip ons
RAD carbon fiber front mudguard
RAD carbon fiber rear mudguard
Discacciati rear brake kit with support, 200mm rear rotor and four piston caliper
?hlins rear shock
RAD 02 Ergal regulable rear height rod
Rizoma footrest
Ducati 1198 SP engine: ported heads, lightened flywheel, EVR slipper clutch
Febur race water radiator
RAD 02 carbon fiber airbox with Jet Prime special air intakes with holders for injectors.
Super Mario 2 in1 exhaust system
RAD "tail fish" megaphone
RAD carbon fiber bellypan
NGK race spark cables.
RAD 02 electrical wiring
Aviacompositi race dashboard
Baylistic LIPO battery
ITX Aluminum forged wheels
RAD 02 Aluminum fuel tank
RAD 02 carbon fiber Corsa Evo solo seat
RAD front plate number
Weight: 138 kg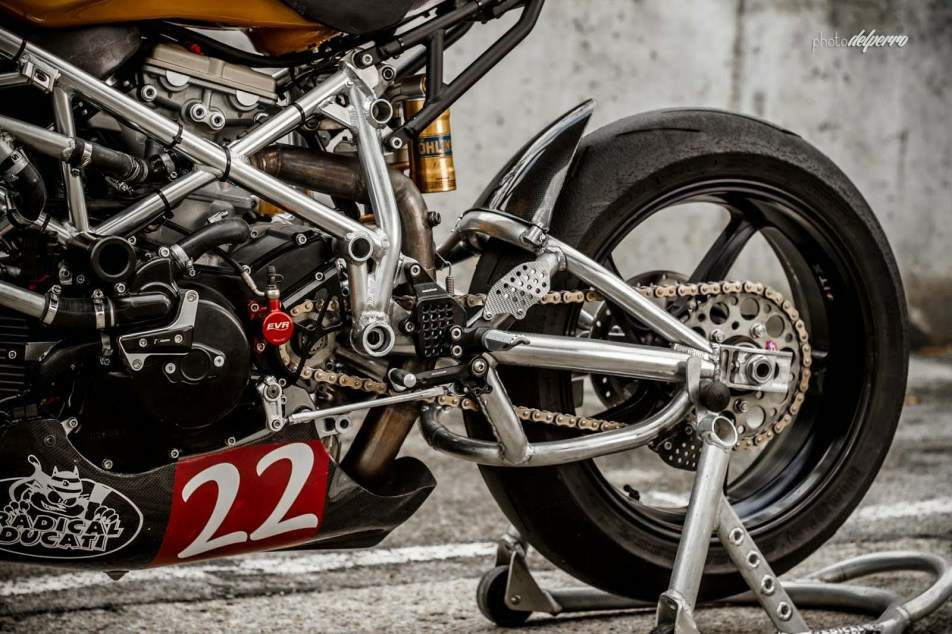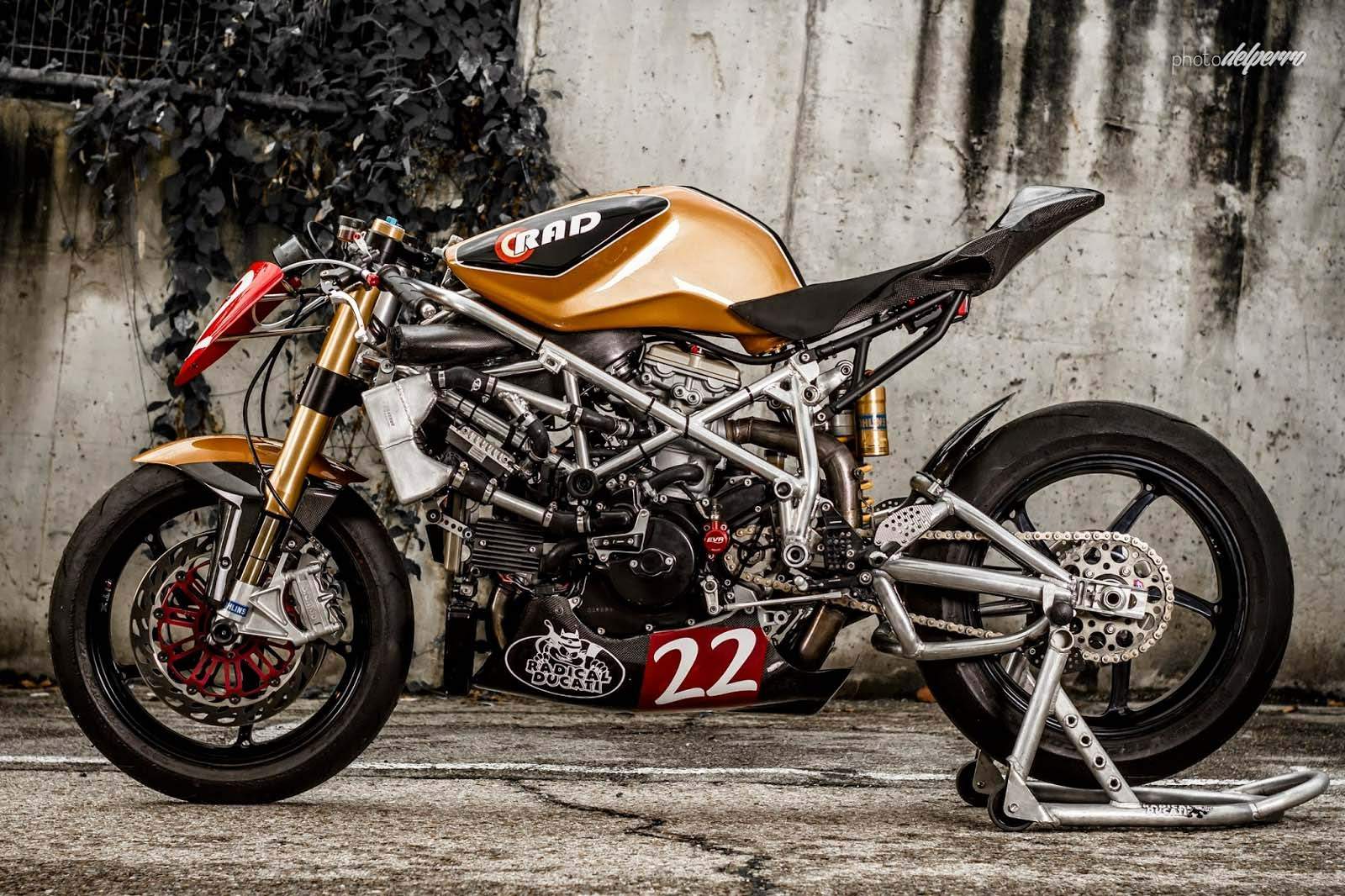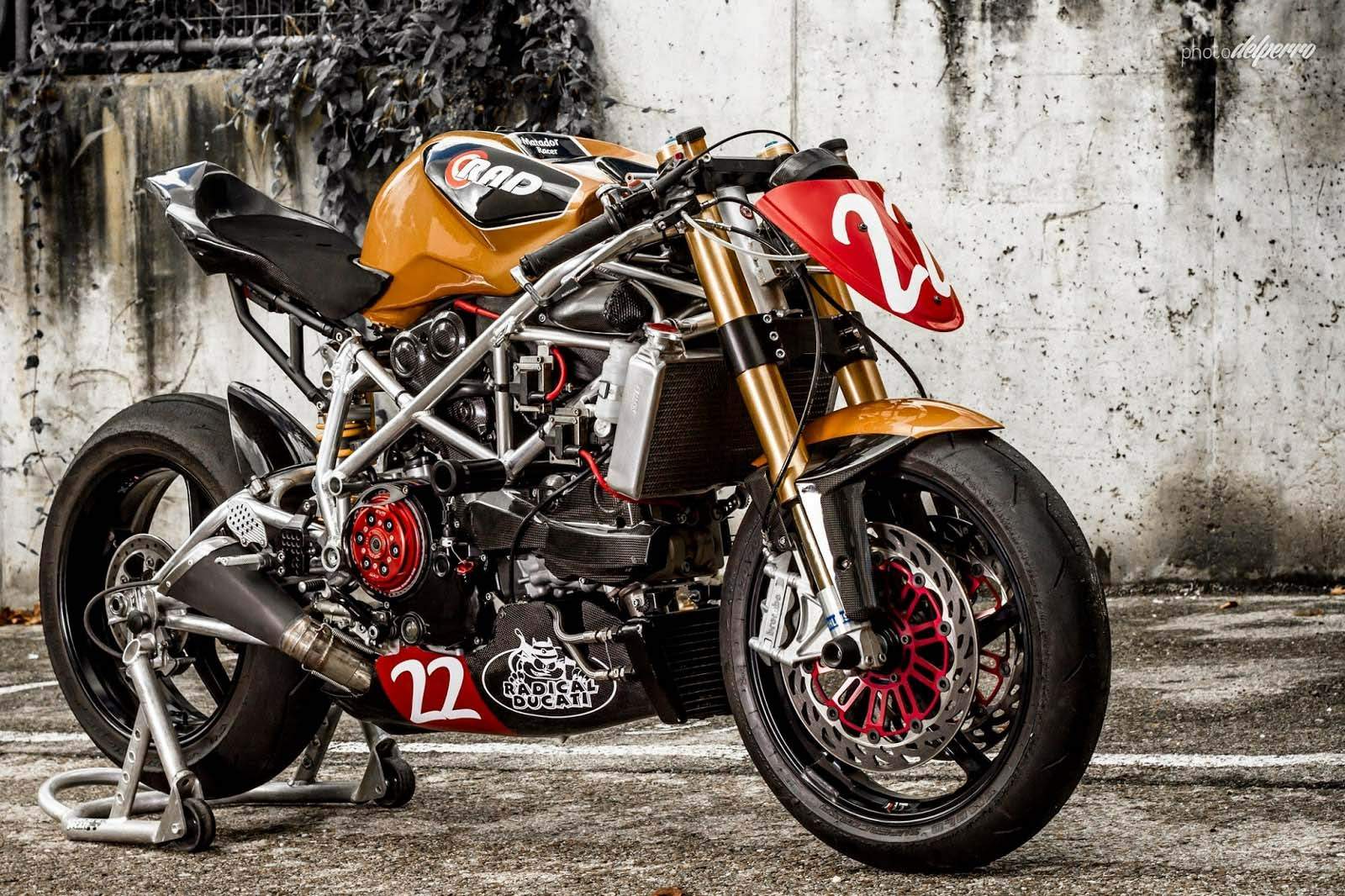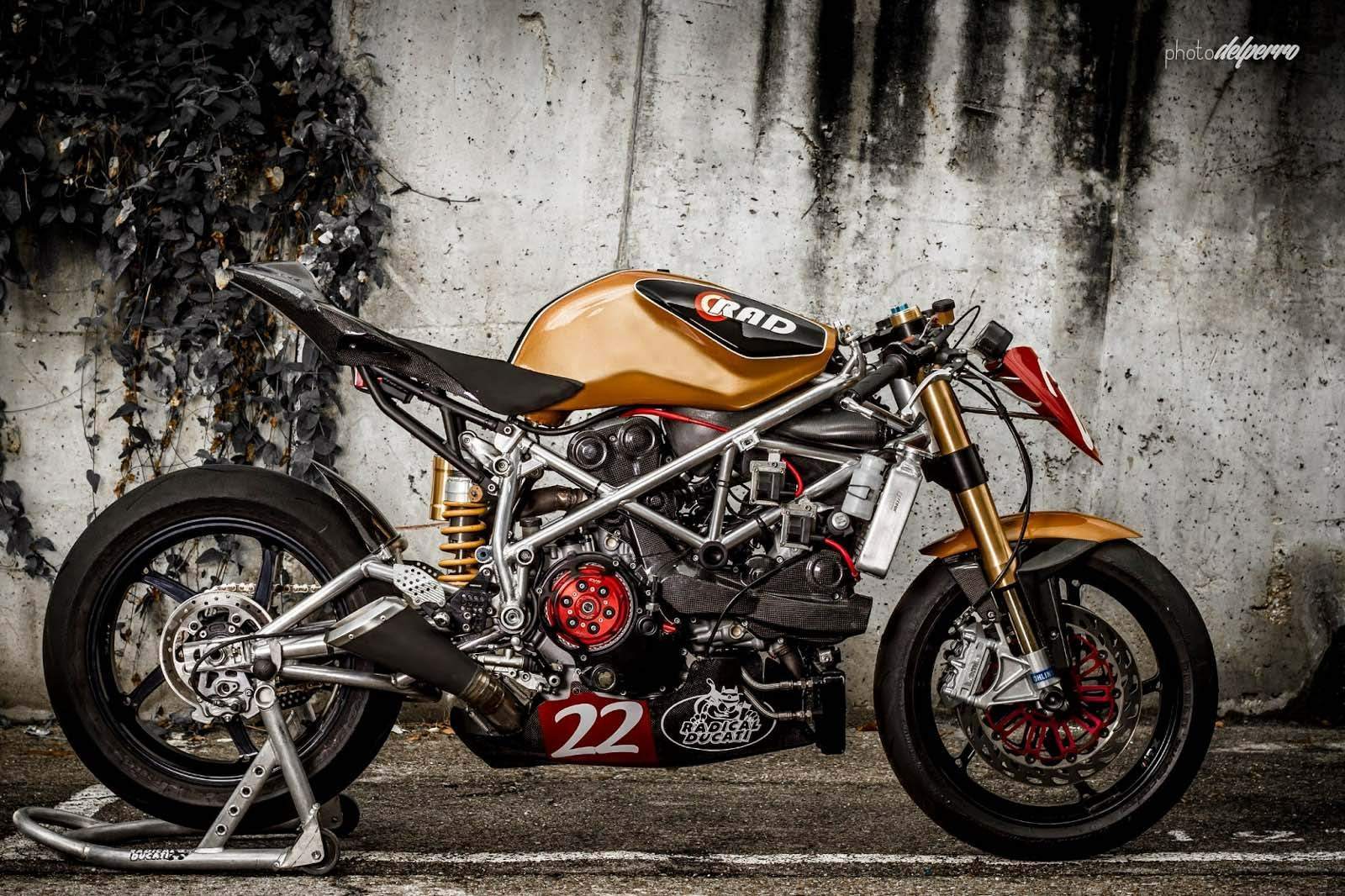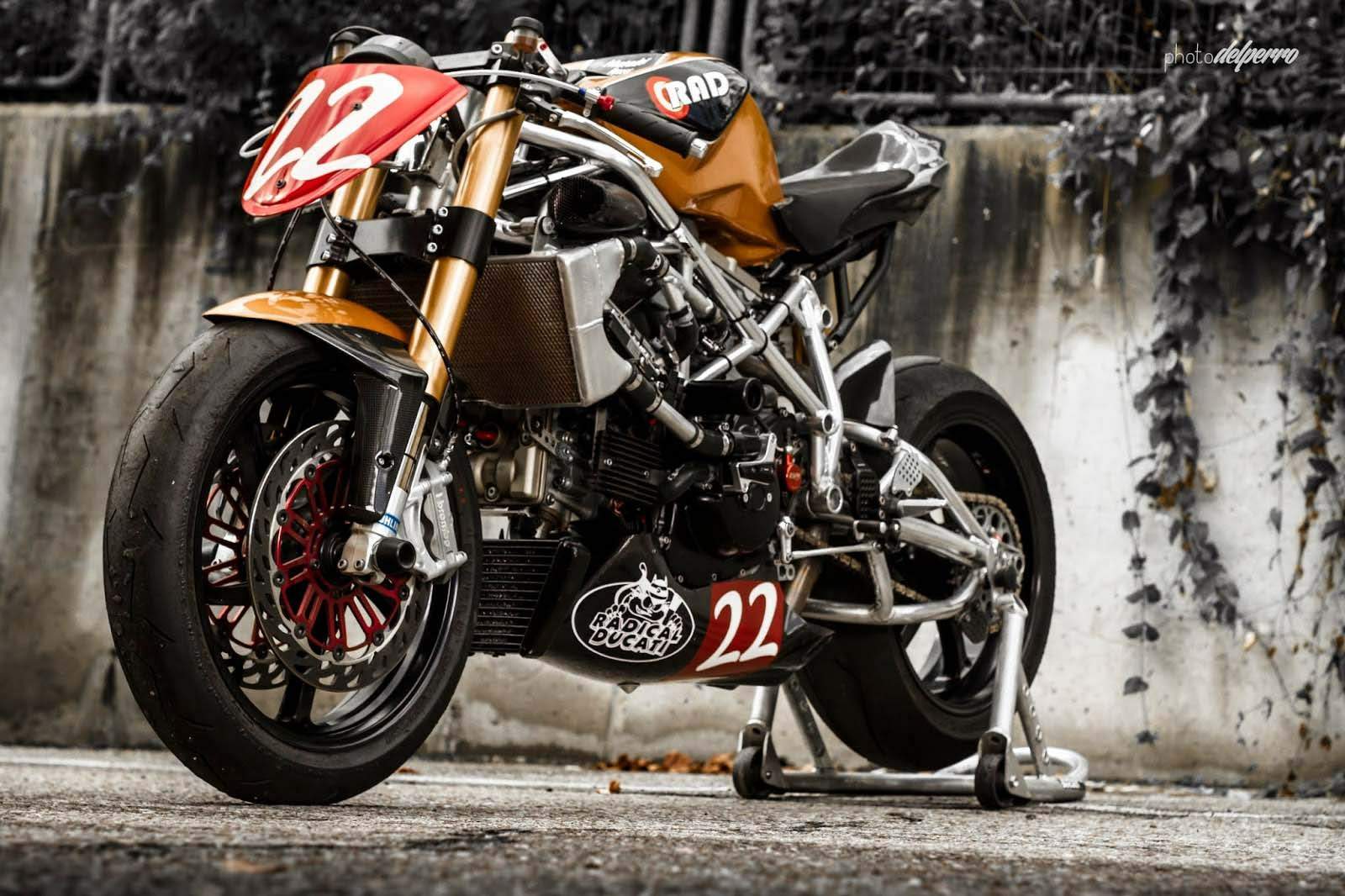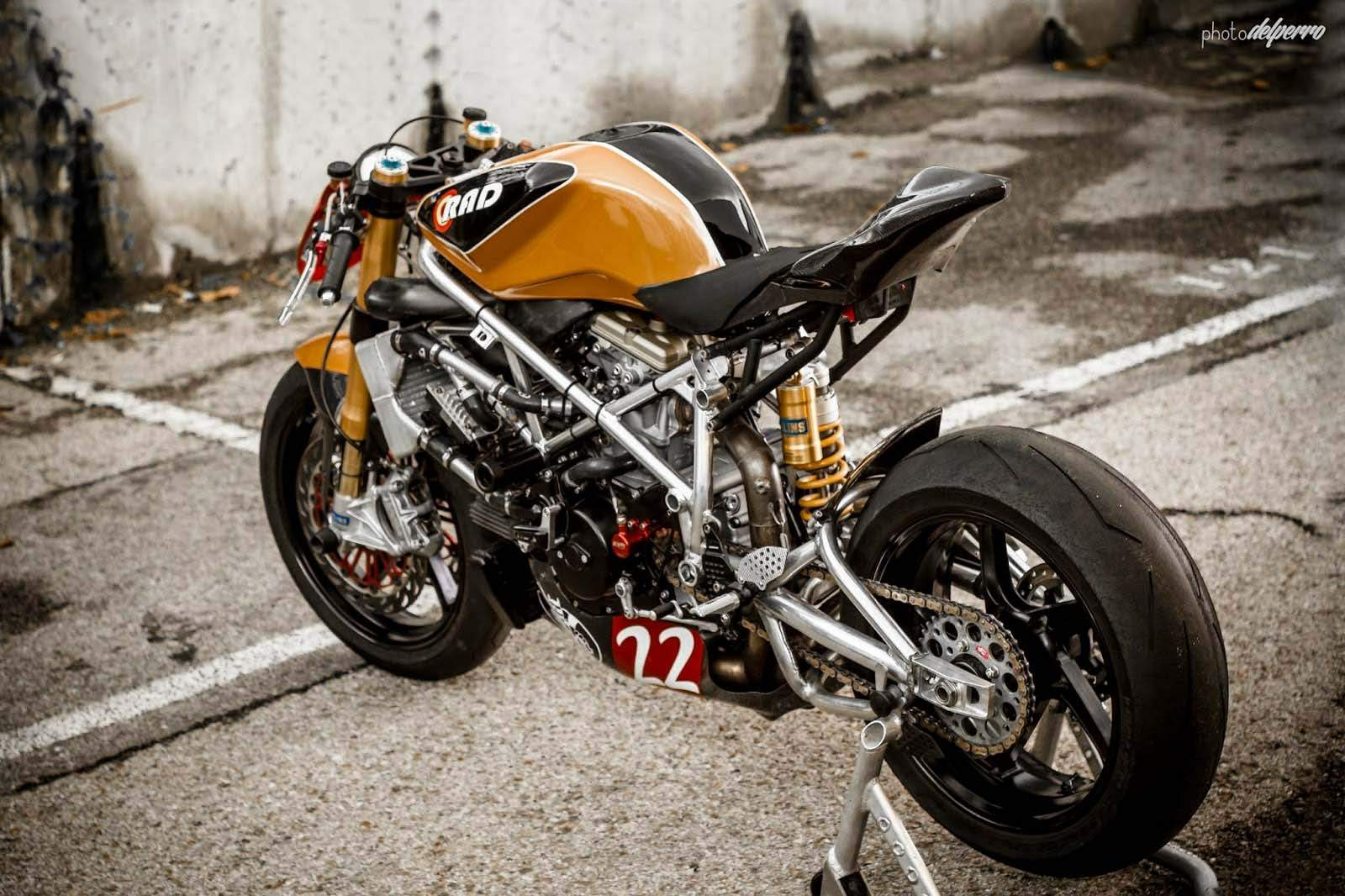 google 提供的翻译,很不专业,大家先凑合着与原文对比一睹为快!
激進的杜卡迪鬥牛士

根據各地的杜卡迪1198超級疙瘩,並配備了所有常用部首杜卡迪部分,激進杜卡迪鬥牛士不僅是典型的西班牙公司的堅韌不拔的設計實踐,同時也讓我們懷念起已故杜卡迪STREETFIGHTER 1098平台,這在打期間在杜卡迪的陣容了短暫的時間相同的原始靜脈。

簽名簡約碳纖維的RAD獨奏尾段和RAD油箱都包含在鬥牛士的設計,我們特別喜歡西葫蘆和雷耶斯都按摩一些愛到1198發動機,具有輕量化飛輪和移植頭作為構建的一部分 - 雖然沒有一句話是鑑於對可用功率。

仍然在304英鎊,這台機器應積極在當地的賽道日殺死它。奧林斯懸掛, Brembo剎車,一個EVR滑動式離合器,和RAD設計的排氣管完成細末快捷件。

來源A&R


激進的杜卡迪鬥牛士:

RAD 02鋁框
RAD 02鋁合金副車架
RAD 02鋁合金搖臂
RAD 02 ERGAL三重鉗軛
奧林斯前叉
卡鉗的Brembo
Discacciati剎車和離合器泵徑向
Discacciati轉子
多米諾快開氣節流閥
RAD 02 ERGAL剪輯元件
RAD數據通信的碳纖維前擋泥板
RAD數據通信的碳纖維後擋泥板
Discacciati後剎車套件的支持, 200毫米後方轉子和四活塞卡鉗
奧林斯避震
RAD 02 ERGAL調節的後排高度桿
Rizoma腳凳
杜卡迪1198 SP發動機:移植頭,輕量化飛輪, EVR拖鞋離合器
Febur比賽水散熱器
RAD 02碳纖維進氣箱與Jet總理特殊的進氣口與持有人噴射。
超級馬里奧2合1排氣系統
RAD "尾魚"傳聲筒
RAD碳纖維bellypan
NGK火花塞比賽電纜。
RAD 02電線
Aviacompositi比賽儀表板
Baylistic鋰電池
ITX鋁合金鍛造輪圈
RAD 02鋁合金油箱
RAD 02碳纖維的Corsa埃沃獨奏席位
RAD數據通信前板數
重量: 138千克