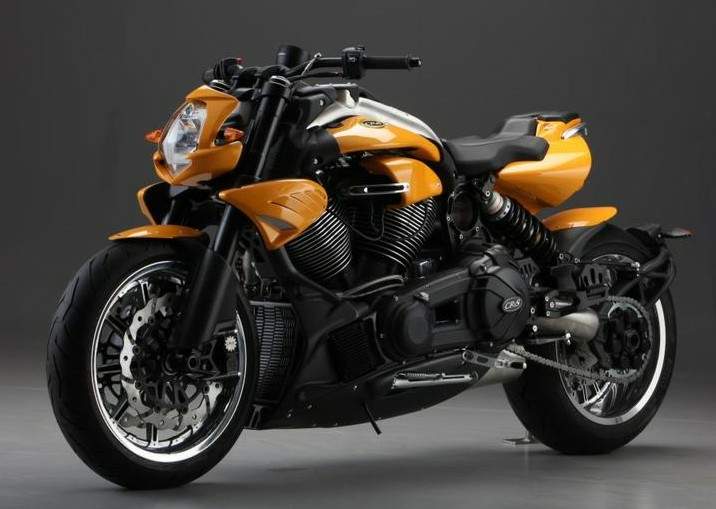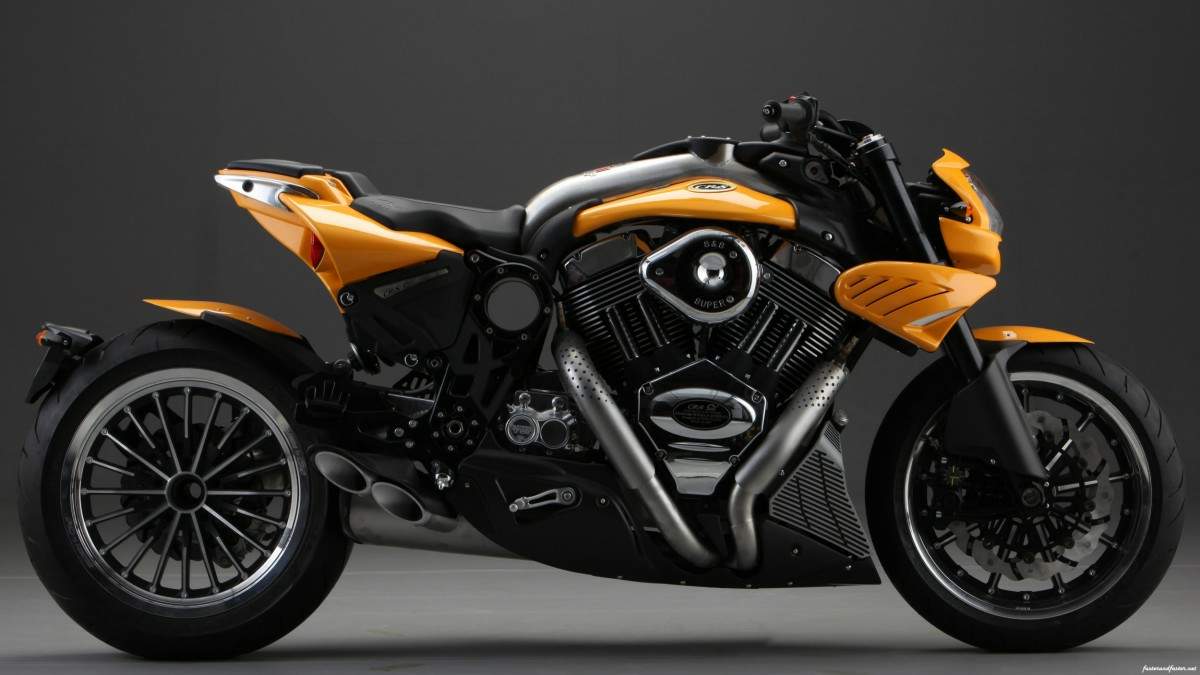 CR&S Duu Alegher

The CR&S Duu Alegher, Duu Nottenbia and Duu Sbirluscenta are handsome machines and all three are powered by the same S&S 'X-Wedge' air-cooled OHV 1916cc American-made V-twin that produces 91bhp at 5100rpm and 148Nm of torque at 2,500-4,700rpm.

All three Duu bikes also share the same chassis – a compound structure made of one large-section stainless steel tube (which serves as the 'backbone' for the frame and also works, partially, as the fuel tank) and other smaller parts that are also made of stainless steel and connected to each other by light alloy components. The single-sided swingarm is also made of stainless steel tube and, according to CR&S, this chassis is built to stay free of rust and corrosion for the bike's entire lifecycle.

The Duu trio rides on 17-inch machined-alloy wheels shod with 190/55 (rear) and 120/70 (front) tyres. There's a 48mm USD fork at the front, adjustable for rebound damping and spring preload, and a fully adjustable monoshock at the back. Twin 320mm brake discs, with radial-mount 4-piston calipers (front) and single 260mm disc with 2-piston caliper (rear) handle the braking duties and the bikes weigh about 245kg, dry. Fuel tank capacity is 15.5 litres and according to CR&S, the Duu is capable of hitting a top speed of more than 200km/h.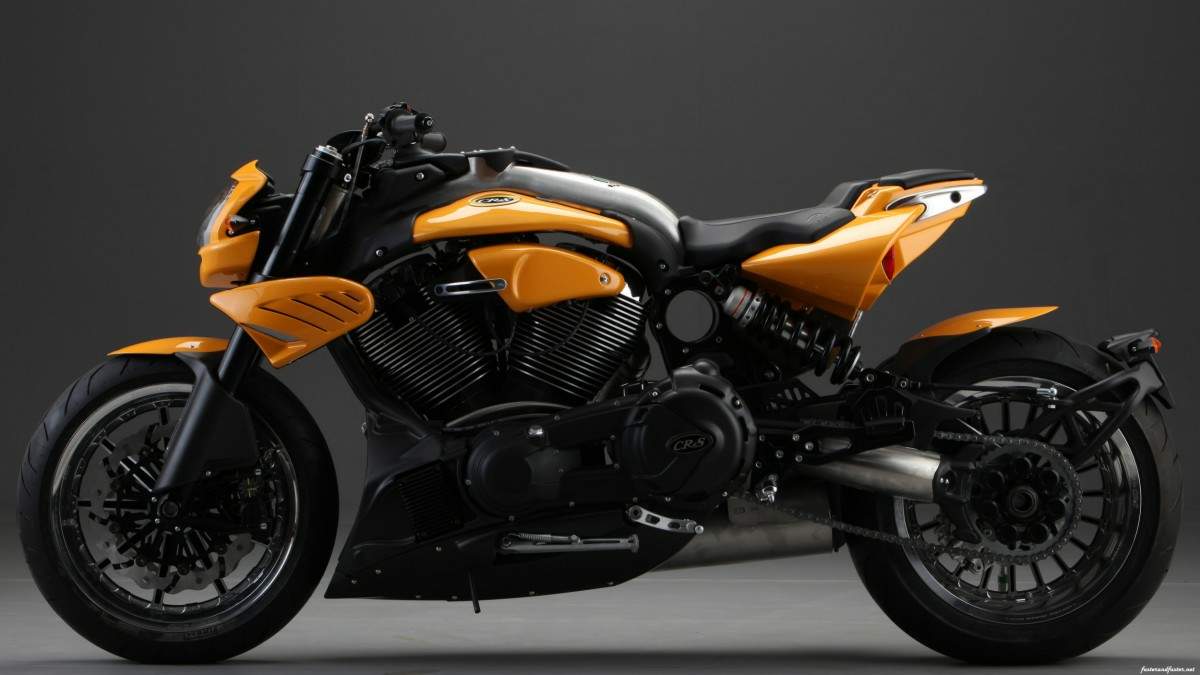 google 提供的翻译,很不专业,大家先凑合着与原文对比看一下:
CR和小号笃Alegher,笃Nottenbia和笃Sbirluscenta是英俊的机器和所有三个顷搭载的相同的S&S"X-楔"风冷OHV1916cc美国,制成的V型双缸,产生91bhp在5100rpm和148Nm的扭矩在2500 - 4,700转每分钟。

该所有3笃自行车还共享相同的机箱 - 一个大截面的不锈钢管(作为用于该帧的"骨干",也可以工作,部分地,作为燃料箱)和其他更小的部分,构成一个复合结构也由不锈钢制成,由轻合金组件彼此连接。单面swingarm是由不锈钢管,根据CR&S,这款机箱是建立在免费的防锈和防腐蚀自行车的整个生命周期。

本笃三人骑在17英寸的机加工铝合金轮毂,轮胎与轮胎55分之190(后)和120/70(前)。有一个48毫米美元叉子在前面,可调回弹阻尼和弹簧的预紧力,和完全可调monoshock,在后面。双人标准间320毫米制动盘,径向式4活塞卡钳(前)和单260毫米光盘2活塞卡钳(后)与处理的制动职责,和的自行车重约245公斤的,干的。油箱容量为15.5升,根据CR&S,笃是能够达到的最高速度大于200km / h的。
CR&S Duu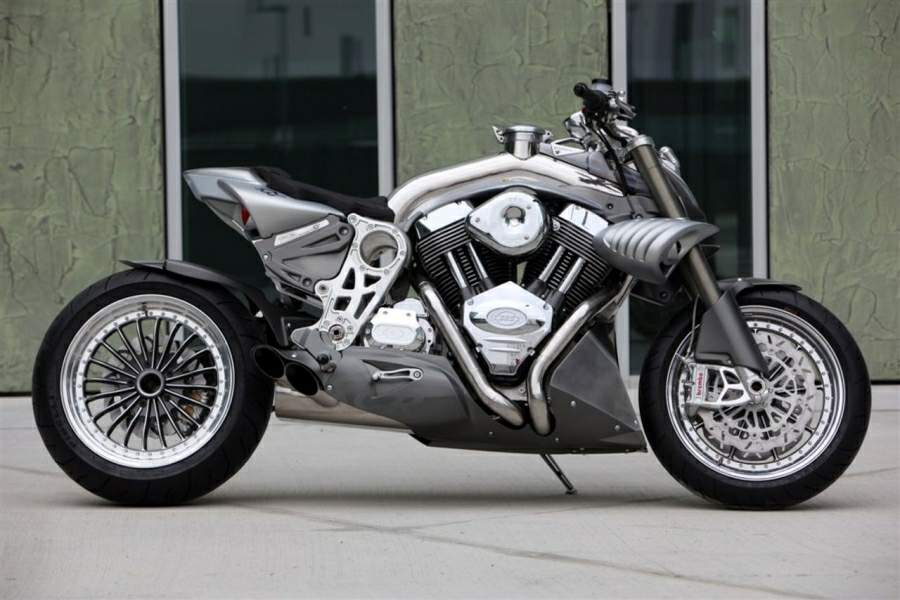 The CR&S "DUU" is a concept bike, It will be a naked, twin seater, premium motorcycle with a modular layout. Two Western Motorcycle Cultures will be synthesized inside the "DUU": a sporty European rolling chassis powered by a muscular American big-twin. The DUU will provide intuitive and fun riding, with a technological approach plus styling innovation.

The CR&S DUU is equipped with the new S&S "X-Wedge" engine with a capacity of 1916cc (117c.i.). Last year S&S celebrated its 50th Anniversary by creating this unique engine as a synthesis of its experience and technology. The X-Wedge is a new engine in the American tradition of big twins, which meets the latest emission and noise standards, but with a special character and high performance.

X-Wedge engine: S&S, a leader in the manufacture of special tuning parts for American "V" twins, produces a full range of road and competition engines. S&S engines hold numerous motorcycle drag racing titles and land speed records.

CR&S introduced the concept of a "tailor-made motorcycle" by its first model, the "VUN". Beginning with the standard version, each customer chooses his motorcycle through a wide range of technical and aesthetic options.

The DUU extends this concept, now synonymous with the CR&S brand. In addition to technical and aesthetic options, the DUU allows different configurations. The CR&S DUU begins with a single or two-seater base module, which provides the main needs of the rider while offering countless configuration options, without affecting functionality or the aesthetic form. Just like the VUN, the DUU is a real CR&S: a motorcycle made for "bikers" by "bikers".

Source CR&S